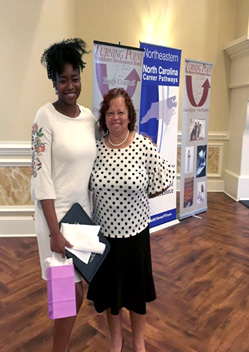 Daisha is a young lady with many obstacles during the course of her young life. Mental health issues, neglect, and homelessness are only a few. She assumed the role of "parent" to her 2 younger siblings, after being abandoned by their mother. This responsibility fell on Daisha while a student herself.
She was able to live with multiple friends as she tried to provide a stable environment for her younger siblings.
There were few other family member to turn to, some of which would not provide any help. Her great aunt did take her and siblings in for a short time, ensuring that they were provided care.
After some time, Daisha's mother returned and wanted to reunite with her children. However, the happy reunion would only last a few months, as Daisha's mother began to become abusive towards her children.  Furthermore, the great aunt that once stepped in and cared for them had passed away leaving Daisha and her siblings in a hopeless situation.   
After some time, Daisha was referred, by a school social worker, to the WIOA youth program, to speak with someone regarding her circumstances and to seek assistance changing her current situation.  Phyllis Neville, WIOA Coordinator, representing Weldon STEM High School Career Academies (WSHSCA) enrolled Daisha into WIOA and immediately began assisting Daisha overcome some of her barriers. Daisha received assistance in job searching, skill building, resume writing, and workplace etiquette. 
With assistance from WIOA Daisha was able to find employment at Crackle Barrel as a waitress, all while completing multiple community service projects, tutoring elementary aged children, and serving as senior class president at WSHSCA. 
In the midst of it all, she managed to find time to prepare for college and has been accepted into Chowan University where she will start her journey fall 2018. She plans to major in Psychology, with plans to pursue a Master's Degree in Child Psychology. Her desire is to work with children that have been emotionally and physically abused. She is motivated to changing the lives of those that may suffer in some of the same situations she has overcome. She understands the impact a positive and caring adult can have on the life of a young person who may feel hopeless.