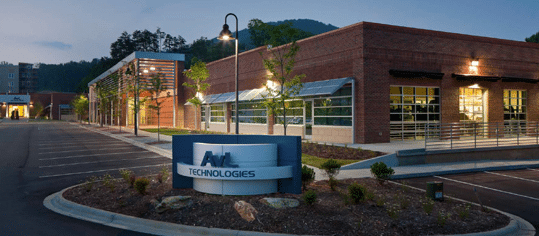 AvL Technologies is a company in Weaverville, NC that produces visionary, innovative, reproducible satellite communications antennas and positioners for emerging markets that combine elegant designs, unique style and technical superiority for ultimate performance. They have been instrumental in leading the development and implementation of Advanced Manufacturing Career Pathways along side Mountain Area Workforce Development.
In January 2017, AvL Technologies was poised to lay off eight temporary workers due to an unexpected slow-down in production. The workers represented four different staffing agencies and all but one worker had completed their staffing contract. HR Manager, Jeff Hayes did not want to lay off these workers as they had proven their value. He contacted Barbara Darby, Regional Business Services Coordinator for the Mountain Area Workforce Board (MAWDB) for assistance. Barbara explored using the Advanced Manufacturing NDWG (National Dislocated Worker Grant) to employ the temp workers and cross-train them. Under NDWG eligibility guidelines, long-term temporary workers who had been laid off in the past and are in stop-gap jobs and are not earning a self-sufficient wage and are seeking full time employment may be considered dislocated workers. All eight of AvL's temps qualified under this eligibility pathway and were enrolled in WIOA's On-the-Job Training Program (OJT). The employees' starting wage was $11.50/hour and they received benefits valued at $1.50/hour. The benefits included: medical insurance, life insurance, short and long-term disability insurance, 401k with employer match, and EAP assistance.   In February 2018, upon their one-year evaluation, seven OJT completers were still employed by AvL and received a wage increase. One trainee did not complete training and resigned due to family health issues.   He had since been hired back as a temp.
AvL has eleven departments in their production area: Composites, Paint Shop, Prep Shop, Material Handler, Assembly Technician, Shipping, Receiving, Wiring, Quality Assurance, Calibration, Testing, and Receiving. Based on the workers' work histories, interests, and abilities and the projected needs in production, Mr. Hayes and Ms. Darby developed customized training plans for each person. Each worker received 800 hours of training in several departments between February 13 and June 30, 2017. The cross-training made the employees more versatile and allowed AvL to shift workers according to production needs. Through the OJT Program, AvL received a 50% wage reimbursement for each employee at $4,600 per employee.
Jeff Hayes states, "Without the NDWG implementation grant and the OJT Program, our company would have been forced to lay off these workers. AvL values and supports the workforce board's work with the Advanced Manufacturing Certified Career Pathway. This was a win-win situation for all involved: the company, the workers, and the community."
Using the OJT Program, the BSR was able to place several additional dislocated workers in Hospitality & Tourism career pathway jobs along with several placements in the IT sector using DW formula funds.   Currently, the BSR is working with several dislocated workers from healthcare to upgrade their credentials and possibly utilize the OJT Program for certified career pathway positions.