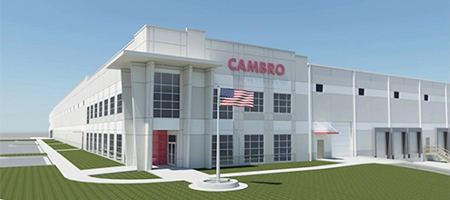 Cambro is uniquely committed to investing in the people and processes that make their products a reality. They offer a wide range of trays, table service and display items, storage, shelving, merchandising and insulated transport products, as well as innovative warewashing systems and healthcare meal delivery solutions.
When they had a desire to expand beyond California and open a plant in Mebane, NC, they needed help with finding their entire workforce. Construction for the Mebane facility had started construction without a labor force.
After receiving the incentive package from NC Commerce and Alamance County Economic Development, Cambro reached out to the Regional Partnership Workforce Development Board (RPWDB) to inquire about training that may help develop a workforce. Crystal Taylor, BSR for RPWDB introduced Tammy Wall, WIOA Director to Orshi Kocsis, Human Resource Manager for Cambro, to see how the local workforce board could help.
Cambro's Human Resource Manager, Jacqueline Roeder was welcomed into the NCWorks Career Center by the center's manager, Lisa Arnette. The center served as the Human Resources Office for Cambro. A collaborative effort between NCWorks Career Center, WIOA, and Alamance Community College provided 13 candidates that were chosen to participate in the On-the-Job Training (OJT) program. In addition to the OJT program, participants were flown to California for additional training the "Cambro Way". Upon their return, the plant was opened for business and they were employed by Cambro. Wages for these individuals ranged from $13.50/hour to $24/hour. Over the next 24 months, 10 additional individuals were employed and trained in the OJT program.