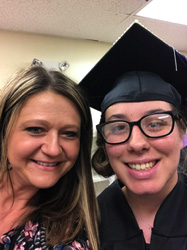 Faced with a number of barriers, Dorothy Garland used her determination and resources to put herself on the road towards success. Despite the tragic events Dorothy was faced with, she was able to push through and see her goals come to fruition.
Unfortunately, life presented some major hardships for Dorothy. Dorothy's mother was diagnosed with dementia which resulted in her placement in a nursing home. During this time, Dorothy's dad passed away due to stage four cancer. Due to her brother's disability, he moved to Pennsylvania to live with his grandma. Determined to finish school on time with her graduating class, Dorothy stayed in her home town. Having no other family to stay with at the age of 16, she was placed in the foster care system.
Dorothy was referred to NextGen/WIOA during this last year of her schooling at the Mayland Early College. She was required to complete an internship for her Human Services degree. Already working 30 hours a week to support herself, while attending high school and college classes, she was worried she would not be able to handle all the requirements to graduate.
While receiving ongoing guidance and support from her career advisor at the NCWorks Career Center, she participated in the work experience program which assisted her with a paid work experience meeting her class requirements, and monetarily enabling her to cut back on her work hours in order to balance her responsibilities. Her placement at DSS as a social work intern, not only provided additional work experience but also valuable employment resources.
Having successfully completed her educational requirements, during May 2018, Dorothy proudly graduated with her high school diploma, and her Associates Degree in Human Services. She is now interested in pursuing her next goal of a bachelor's degree.